Ya, that's right, Show and Tell...for me...not for my students, for me!
I'm taking part in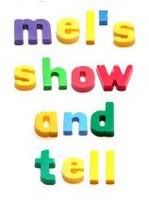 So, here is what I picked, it might not seem like much, but I will explain how it defines me :D
Here is the story... I got this bag on my honeymoon, which was in Disneyworld, but was not in 1971 as the bag states :D
That actually is three parts of the story.
1) Great memory of my honeymoon
2) A great canvas tote (more on this later)
3) A great reminder of my ability to spend tons of money on all things Disney, especially marketing ploys "buy $30 of stuff and get this bag for $10" SURE!!
I loved my honeymoon, it was so fabulous just to be alone with Husband for 10 days, far away from California, far away from family. That's probably horrible to say, but it's nice to get away sometimes. I feel like the next line I wanted to write should be written this way.... "twas a simpler time of life".... ya, I realize it was less than a year ago, but in my TTCing mind that's forever! I bought my copy of What to Expect while on our honeymoon... it was the month I was sure I'd get pregnant, the month we officially started trying, even though we'd been kinda trying for three months before that. I want to go back to that time, kinda...mostly if only to reclaim my sex life (sorry, TMI, but that's the way TTCing goes). okay, onward!
Canvas totes... I know I love 'em! As a teacher I think I pretty much have to. This particular canvas tote is the one I carry everday, as I make my way to the indentured servitude that is student teaching, knowing that one day I will teach masses of youngins all the stuff that the state wants me to teach them (bitter? not really, just realistic). This bag represents me as a teacher. My lesson plan, my curriculum books, my cute teachery classes... all in this bag.
I don't think I need to explain too much about how I spend all my money on disney stuff...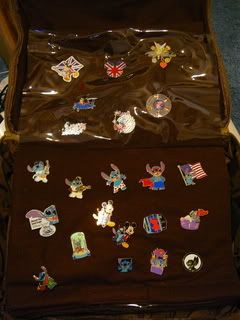 btw... I also collect Disney pins (this is about a tenth of the collection). There is no way to justify this collection...
Love you all!!