Let me just start by saying wowzers...powerzers....
So, I promised (mostly myself) that I would update this after our RE appointment, but so much has happened since then, that it has taken me all weekend to get my thoughts together.
So, the appointment itself was fairly normal, except that it started super late, and we were there for almost 3 hours. Oh, and the fact that no one told me that I'd be getting a vag u/s... what a lovely surprise, right? I had that done, and lucky for me I am producing follicles like crazy... CD3 with about 20 of them growing around in there. Figures I'd be all follied up, and Husband is all spermied down...
We had our little "consult" with Dr.Good (that's not his name, although that's how the pharmacy lady said it, and so far we think he is.... so, we'll keep it like that right now) which basically went over our fertility history... it was short.
Then we went in and talked with the caseworker, who we'll call BB. BB looked over our insurance, and highly encouraged us to move quickly, since I had mentioned our current insurance would run out in 9 months (that is a whole other long story that I'll skip right now). Anywayyyy, what it comes down to is that we'll have to pay for the sperm (obviously), and the meds, which won't be too bad... I'll need Clomid, and HCG trigger, and then some progesterone ($10 each under our insurance), and $20 for the actual IUI... $550 for the whole sha-bang!!! SAY WHAT!?!?! So.... drum roll....
WE ARE GOING TO START CYCLING NEXT MONTH!!! WOOOO HOOOO!!!
Yea, crazy, I know... such a drastic change of plans... but we think it's right (and we want to take advantage of our insurance)
Part 2 of the exciting stuff...
We found our donor!! How bout that??? Yea, fast, I know. We've actually been looking, but hadn't done a really serious narrowing down. On Friday night we searched and searched.
Here is a list of our criteria:
hazel, brown, or green eyes
brown hair
5'8" - 6'0"
160 - 190 pounds
CMV neg
previous pregnancies
athletic (this was Hubby's request, haha)
college grad (all of them have at least a four year degree, who knew?)
no serious illness/disease in fam history (we went back 3 generations)
I think that was it... I can't remember any others.
So, by Friday night we had narrowed it down to three... we gave them nicknames which aren't terribly important, but helped us remember them, rather than by their numbers.
Nicknames: Favleck, Dirty Job (DJ), and Mathlete
We slept on it.
We woke up thinking the same thing... Dirty. Job.
I know... a friend commented that she "wouldn't want that inside her"... I know, I know... but really... he's the best option... he fits in almost every way.
So, there ya go... DJ it is... next month it is... HOLY CRAP... I might be pregnant by the end of next month. I'm going to tryyy and not get my hopes up that it'll happen on the first time, I know that it will probably take a couple, but I'm praying it won't take more than three times. We'll see :D
We are super excited, scared, and every other emotion ever!! AHHHHH!!!
As for the rest of the weekend, yesterday we went to church, and hung out with our friends, and today we went to the Garlic Festival. It was two hours away, and not worth the drive... but we've been saying that we want to go to it forever, and we finally went. I'm glad we did. I had a really good day with the Hubby.
Here is a pic of me not eating garlic flavored ice cream...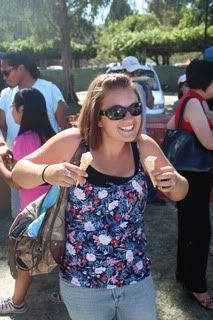 I felt bad because right after us they ran out... and I didn't eat it because it made me want to barf... butttt what can you do... at least I tried it :D
So, alllll of that being said, this weekend was crazy, and good, and crazy.
Tomorrow I have a saline sonogram, which is hopefully really just the formality they are saying it is. I'm gonna pop a vicodin before I go, because I'm a wuss, lol.
Anddddd, I'll update when I know more!!!
Bye Lovelies!